Our "KariesScreenTest", which replaces the no longer produced IvoclarVivadent CRT® bacteria test kit, will be available soon.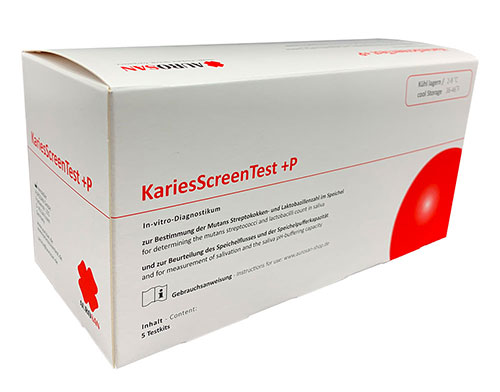 The development of caries and its consequences are causing almost 9 billion euros in health insurance costs for public health insurers, despite years of declining patient numbers (GBE 2017/2015). Therefore, education and screening for caries risks are an integral part of the medical tasks - with infants ideally in close cooperation between paediatricians and dentists.
Dr. med. dent. Lutz Laurisch (Korschenbroich) developed a caries risk test based on the microbiological, highly selective detection of the caries-relevant bacteria Streptococcus mutans and Lactobacillus from plaque or saliva, which was previously available via IvoclarVivadent under the name CRT®. However, by the end of 2018, IvoclarVivadent decided to discontinue production of this product.
Soon, a successor product under the name KariesScreenTest will be available in stores, resulting from a cooperation between Dr. Ing. Laurisch, the company AUROSAN, minilu and van der Ven-Dental.
"Our biggest concern was the continuous availability of the test procedure for the more than 1,000 users of the product in Germany alone." Laurisch said. "We are currently preparing a comprehensive multimedia information package on the product, which will also be available in time for presentation at the IDS 2019, the International Dental Show in Cologne (March 12-16, 2019). I am pleased that we have succeeded in keeping this important test method available for all colleagues who are offering caries screening in their ofices. Thus, it remains possible to determe subclinical caries risk parameters and protect patients through the appropriate follow-up measures to be taken with positive test results. Our goal is to further improve dental health for all ages. "
The KariesScreenTest is available in packs of 10 dips. As an alternative, the KariesScreenTest + P is offered, which additionally contains 10 test strips for measuring the buffering capacity of the saliva. Both are accompanied by detailed instructions for use, which not only refer to the product purchased, but explain all measures necessary to determine subclinical risk parameters.
We are pleased to have minilu (www.minilu.de) as partner for the dental sales in Germany, Austria and Switzerland. In other countries, our REVOIS® distributors are also available as contact persons.
For paediatrics, the KariesScreenTest is distributed by the team of Rösch Medizintechnik, which is part of the AUROSAN Group.
Information about Dr. med. med. dent. Laurisch
Dr. Laurisch has been one of the protagonists of caries prevention for more than 30 years. Through a variety of publications, lectures, his work as a book author and through his many years teaching at the Heinrich Heine University of Dusseldorf, Germany, he has significantly shaped the caries prevention in Germany. Not only with the awarding of the Golden Badge of Honor of the DGZMK in 2013, his commitment to caries prevention in Germany was well recognized. Both the former CRT® test and the now offered KariesScreenTest go back to a detection method for caries-relevant marker germs. developed and patented by Dr. Laurisch.
Reference information for the KariesScreenTest
Dental customers in Germany, Austria, Switzerland:
minilu | www.minilu.de | Адрес электронной почты защищен от спам-ботов. Для просмотра адреса в вашем браузере должен быть включен Javascript. | 0 800 – 588 99 19
Other markets and pediatrics also:
AUROSAN GmbH | www.aurosan.de | Адрес электронной почты защищен от спам-ботов. Для просмотра адреса в вашем браузере должен быть включен Javascript. | Tel 0201 21961-701
Product variant
Delivery

Caries Screen Test

Order no. MD2426

To detect caries-relevant germs.

(10-pack DIP slides with paraffin gums)

Caries Screen Test+P
Order no. MD2427

To detect caries-related germs and to investigate the buffering capacity of saliva.

(10-pack DIP slides with paraffin gums and buffer capacity test strips)
Reference information on complementary individual products
AUROSAN GmbH | www.aurosan.de | Адрес электронной почты защищен от спам-ботов. Для просмотра адреса в вашем браузере должен быть включен Javascript. | Tel 0201 21961-701
Webshops: www.aurosan-shop.de and www.revois-shop.com
Product
Delivery
Paraffin gums
Order no. MD2425

To stimulate saliva production and secretion.

(10 pcs in blister)

NaHCO3-Tbl.
Order no. MD6001-CO2

To create a microaerophilic climate for the growth of sensitive germs.

(10 pcs in blister)
Pre-orders are possible.
---
Please visit our booth at IDS in Cologne:
Exhibition hall 11.3 booth H69
---