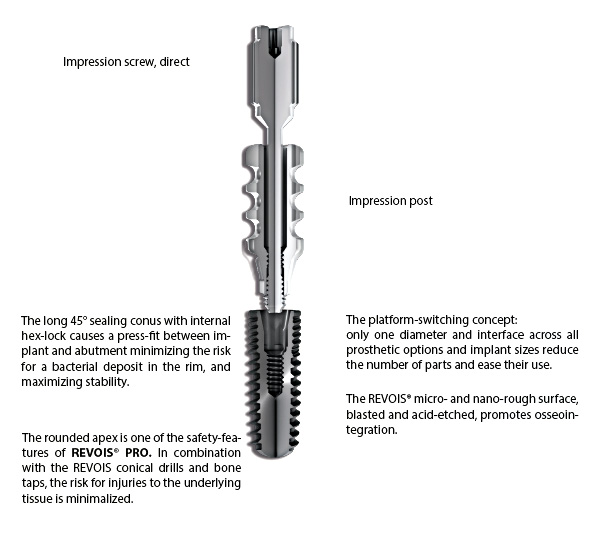 REVOIS® PRO is the flagship of the REVOIS® Dental Implantat System. Introduced in 2011, there are now long-term data available propagating the value added of the combination of the simple, biologic design of REVOIS® PRO and the quality of manufacturing, focussing on surface treatment and cleanliness, both translating into a high proportion of primary stability and exzellent implant long-term survival.
In addition, users of REVOIS® PRO like the large prosthetic variability, the user-friendly packaging in the inlay blister permitting transfer and insertion of an implant without tooling, as well as the option to reuse some of the parts (e.g. the transfer post can be used as impression abutment). As such REVOIS® PRO also contributes to a responsible use of primary ressources.
Available diameters: 3,8 - 4,3 - 5,0 mm
Available lenghts: 9 - 11 - 13 - 15 mm
Platform-Switching.

For smaller implants, please refer to REVOIS® compact.

Material: Titanium grade 4 (implants and standard abutments); Ceramicor® (UCLA-abutments)

Surface: Super-clean; blasted and etched; nano-rough

Interface: inner hex-high sealing conus (45°) minimizing micro-movements reducing the risk of bacterial intrusion

Outer thread: Selfcutting double thread. Three-way-thread in the crestal zone.

Apex rounded as safety feature.

Appropriate for bone densitites D1 - D4.

Delivery: pre-mounted in inlay-blister; with impression abutment and impression screw (and separately, cover screw)

Special drills: yes (with or without cooling channels)
Drill stops available: yes

CAD/CAM: yes

Compatible with e.g. SFI-Bar®, Dalbo®, Dalbo® PLUS, LOCATOR®, CM LOC®, CM LOC® FLEX.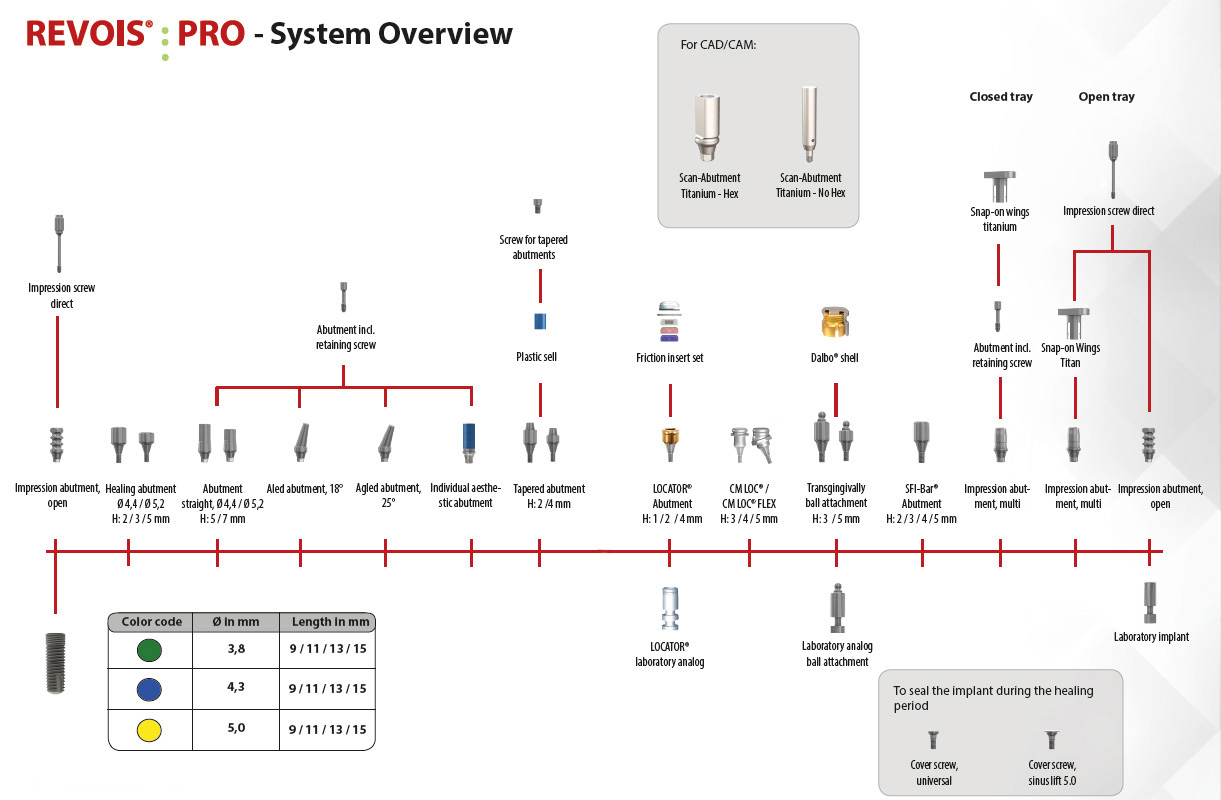 ---
» System overview » Video » Manual » Case studies 1 » Case studies 2