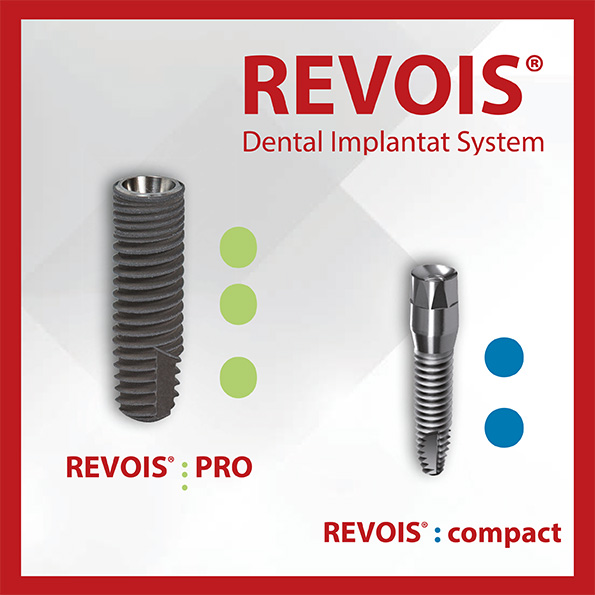 Trust and reliability to a dental implant system are key when deciding on your dental implants industry partner. Availability of parts also after many years of implant insertion, and continuous development along new techniques always permitting a modern and efficient way of working can be expected and are in line with our offering – the three product variants of the REVOIS® Dental Implantat System in combination with appropriate tooling, access to many different wordleading prosthetic lines, CAD/CAM technology and knowledgeable partnering with our team.
Try it out and convince yourself!
The product variant REVOIS® Classic had been developed by Curasan and was introduced in 2003. While at this time highly innovative with its features platform switching, inner hex, acid-etched surface, implant design and manufacturing limitations did not provide enough space for further developments. Since 2012, only prosthetic spare parts of this variant are sold.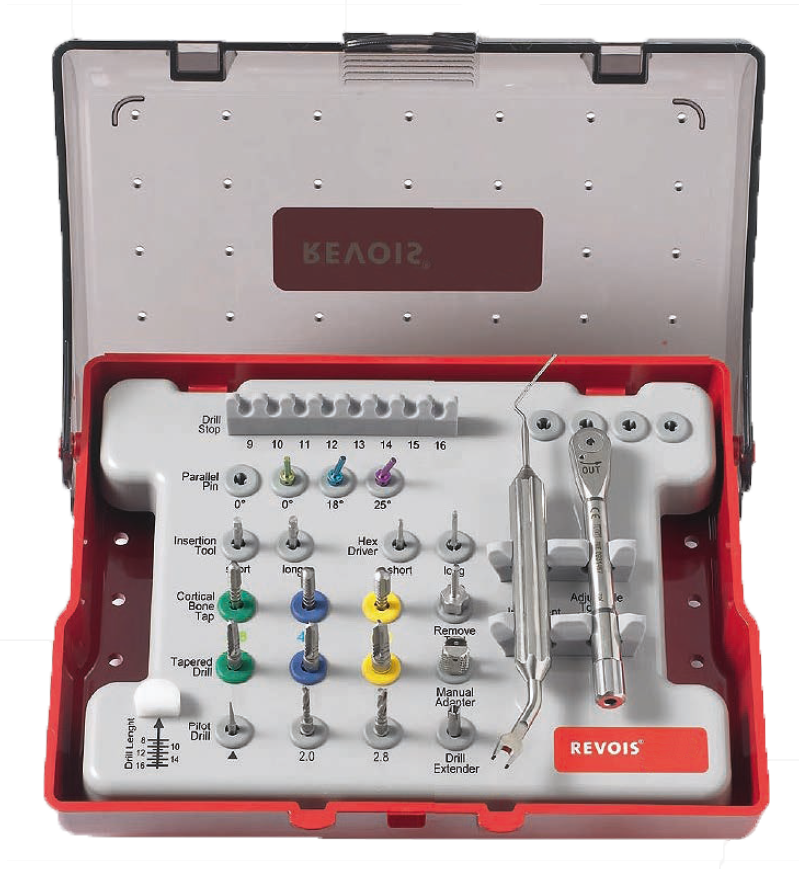 The product variant REVOIS® PRO had been initially developed by RIEMSER and was first presented at IDS 2011. The innovative features of REVOIS® Classic were maintained. Several significant improvements were made relating to material strength, implant form and osseo-integrating thread. Highest precision in manufacturing and an outstanding surface cleanliness was introduced through the strategic partnership between AUROSAN an Cendres & Métaux. The implant delivery concept was re-thought through, and the list of prosthetic options was expanded, e.g. to CM LOC® and for CAD/CAM techniques. To date, REVOIS® PRO is a modern and at the same time simplistic implant system - made in Germany and made in Switzerland.
The product variant REVOIS® compact had originally been developed by bpi systms and was first introduced in 2012. These one-piece mini-implants complement the REVOIS® implants lines for particular small geometries, and also as anchors for space-saving supraconstructions. Since September 2015 with AUROSAN, the implant delivery system has been adapted from REVOIS® PRO, and the range of prosthetic options was expanded.
Across all product variants, the appropriate surgical tooling is available, characterized by easy drilling protocolls and a small number of tools.
We at AUROSAN Dental can supply you with all the most relevant original supplier parts, and this across different implant systems (e.g. for Dalbo®, Dalbo®-PLUS. CM LOC®, CM LOC® FLEX, LOCATOR®, or SFI-Bar®)
---
Please find more information about the REVOIS® Dental Implantat System under following links:
» REVOIS® PRO
» REVOIS® compact
» Dalbo® - Dalbo® PLUS
» CM LOC® - CM LOC® FLEX
» Locator®
» SFI-Bar®